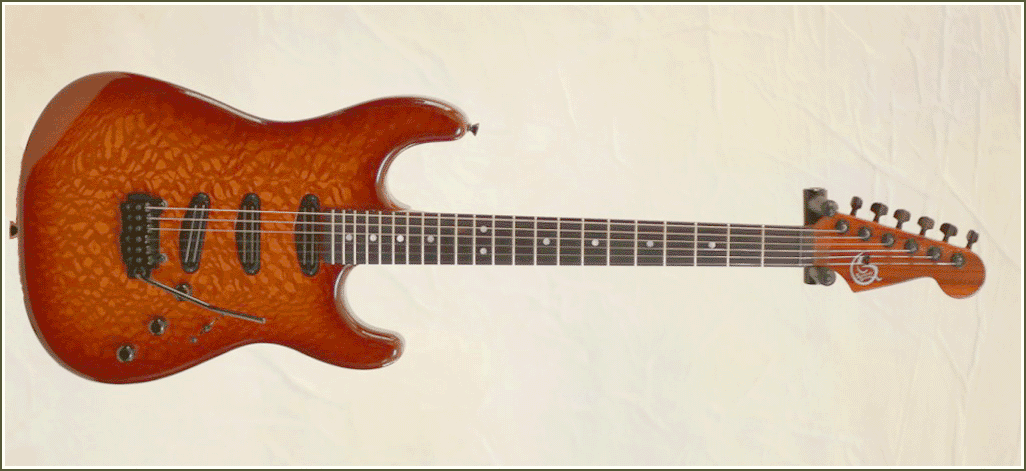 THE  JOURNEY INTO GUITAR FINISHING
Custom Guitar Finishes Is The Future

CGF Custom Guitar Finishing began as a favor for a friend. Thirty years of experience in custom high end cabinet and furniture finishing services became CGF. Nitrocellulose lacquer finishes were included in these projects. This thirty year experience became the foundation to produce the custom guitar finishes that are required of a guitar finishing service.
Becoming a guitar finisher was a happy accident.
A friend, Dennis Kalkowski had an idea. He wanted to build custom guitars to benefit the Muscular Dystrophy Association. Even though he is also a patient, he embarked on this project. Slowlane Guitars was founded.
When he needed custom guitar finishes, he called. There was a long learning curve to make this change. Unknown to Dennis, there is a huge difference between a piece of furniture and a guitar body. A Lamborghini and VW Bug are both cars, but that is where the similarity ends.
Following a lot of research, practicing, trial, and error to learn the skill. In the end, a partnership was born.
As it turned out, this was a fantastic opportunity. The work was exciting. As the saying goes, "If you love what you are doing, you will never work a day in your life". Producing these art pieces is so much more rewarding than cabinet and furniture finishing. Producing these guitar bodies was not considered work. The move into custom guitar finishing was complete.
Collaborating with customers is rewarding. This produces a product that is more than just a guitar. Most of customers have been playing guitar for years. Building this guitar will be their dream guitar. It is amazing to see a block of bare wood transform into an art piece. This art piece is also a magnificent musical instrument. Many feel the most beautiful custom guitar finishes are those produced with nitrocellulose lacquer.